Parramatta Wedding Photographer Service
With more than 10 years of experience in the wedding photography industry, we have positioned among the favourite choices for couples that require a Parramatta wedding photographer that understands how to take advantage of such luxurious venue and shoot photos that will be memorable. Take your services for this special day that is likely to be one of the most important moments in you and your partner's life to the next level by making sure the entire special occasion is captured by an expert Parramatta Wedding photographer with many years of experience in this work.
We completely understand the importance of having experienced professionals that are versed in the style of photography needed for this type of events. When you choose Ozphotovideo Parramatta Photography to offer the specialised service of a Parramatta wedding photographer & cinematographer you are selecting a business that puts producing premium quality photos before anything else. You can rest assured knowing this group of experts will remain unobtrusive and let your reception take place normally while capturing special moments during this special occasion that is so important for both partners and their families. As one of the leading businesses offering the services of a Parramatta wedding photographer we take pride in offering packages tailor made to suit your specific needs and creative demands.
With our services Parramatta wedding photographer & Videographer and any other type of service you may need from Ozphotovideo Parramatta Photography you will be able to meet your budget restrictions since we offer competitive rates that will surely be up to your expectations. Contact us today for more information regarding our top services and stress out knowing your photo session is in the hands of passionate people that put all their effort into making sure you are satisfied with your wedding photos. Our team of experts is expecting your call!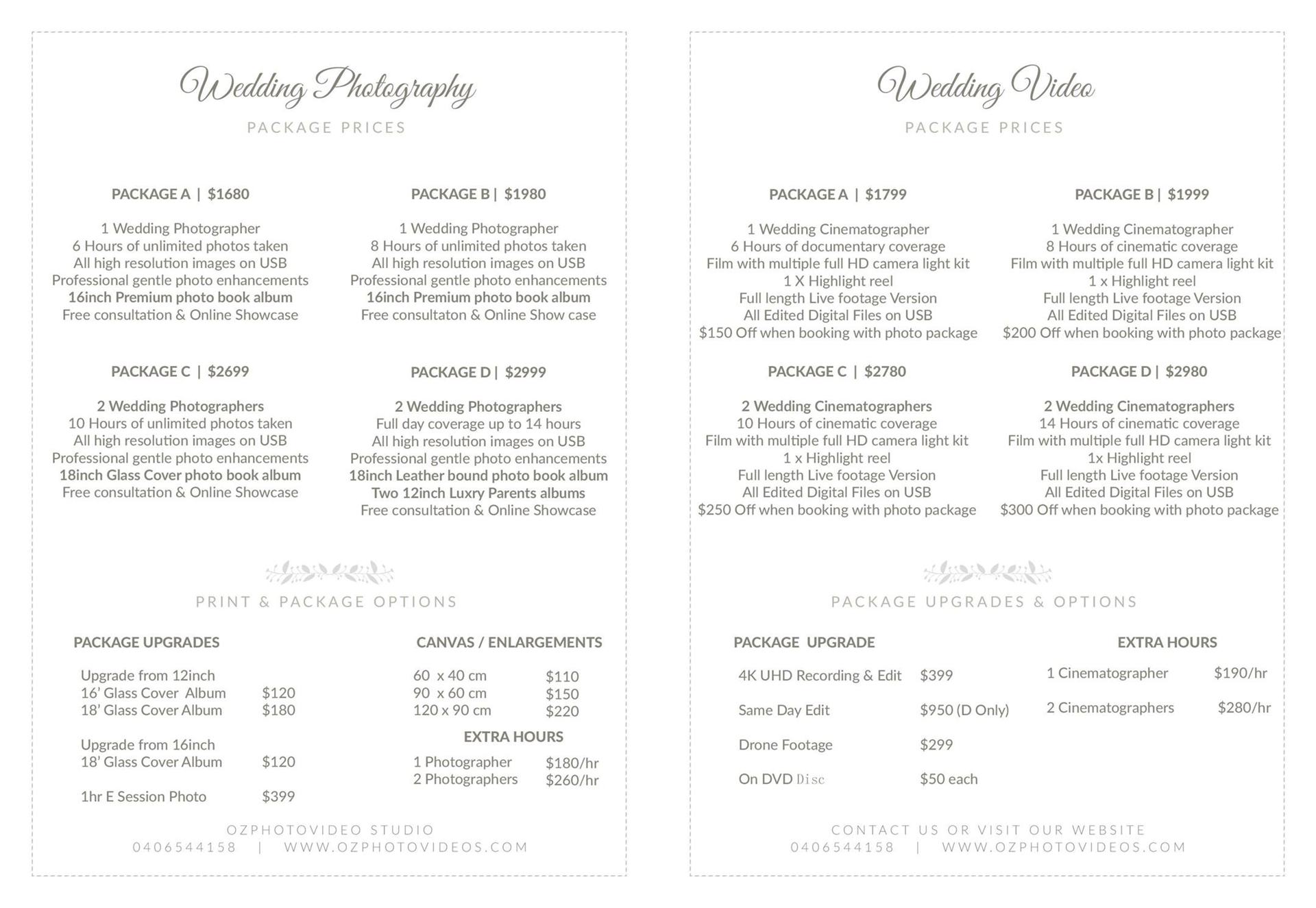 Frequently Asked Questions
How many photos are you going to take?
We take a lot of pictures to make sure we capture all of the special and important moments from your wedding. The candid and natural shots that catch our eye are mixed in with this. We typically deliver 100-180 photos PER HOUR of photography, so a six-hour booking would result in 600-1000 high-resolution photos for you to enjoy.
---
How long will it take for my wedding photos to be ready?
We strive to deliver your wedding photos in USB as soon as possible, which is usually between 2 and 3 weeks.
---
How do I book a wedding photographer?
Simply fill out the
Contact Form
, and we'll be in touch as soon as possible to arrange the deposit and confirm the details. Alternatively, you can reach us at 0406 544 158.
---
How much do you charge?
The cost of half to full day wedding photography from Ozphotovideo Studio is around $1480 - $2999, and all wedding packages include at least one premium photo book album. Check Out Our
Package Price
.
---
How do you keep your wedding photography prices so low?
We keep our prices so low compared to other photographers because we keep our overhead costs low – we don't have flashy shop fronts in CBD, and we don't employ salespeople to try to up-sell you albums, and we minimise our marketing expense, it's simple: we provide high-quality photography at an affordable price. Rest assured that, while our prices are competitive, we do not skimp on our professional cameras and lenses, with each of our highly skilled photographers usually carrying two cameras.
---
Do the photos we get have watermark or your company logo on them?
Certainly not! Your photos are high-resolution and watermark-free. With us, there is no nonsense – you simply get great photography at a great price!
---
Parramatta Wedding Photographers & Videographers
---
Our Talented Wedding Photographers & Videographers provide stunning photos of your big day at a very reasonable rate that will suit any budget.
Please contact us right away! We would be delighted to hear from you and provide you with the best services available. You will never be sorry for deciding to use our services on the most important day of your life.
Contact US