How do you pick an affordable yet high-quality wedding videographer in Sydney?
Wedding videography now gives brides and grooms the option to create a fantastic video documentary of their wedding. Today's couples spend money on the perfect reception site, bridal flower bouquets, wedding cakes, wedding ceremony décor, invitations, wedding gowns, and possibly wedding movies. Wedding videography, on the other hand, should not be overlooked because it retains the memory of the wedding celebration.
There are two ways to document practically every noteworthy event in a person's life. All the things you want to remember a decade from now, including the laughter and tears, the great times with your bridesmaids and best man, and all that jazz, maybe captured in wedding photos and videos. To position those valuable wedding album photographs, the wedding photographer must direct and pose the couple and their guests. Alternatively, the cameraman must blend into the background and record extra informal scenes like a ninja!
A wedding film, more than images, fully captures the emotion and romance of your big day—in live colour. And, as digital technology has advanced, the quality of these videos has risen substantially over time. Instead of the huge, conspicuous analogue (VHS) cameras that were used 10 years ago, most videographers today use small, discrete digital video cameras.
In addition, you will most likely receive a video mastered in USB format, assuring greater picture quality. What can you expect from your video? Here's an outline of your alternatives, as well as advice on how to get the most bang for your buck and how to locate the appropriate pro.
Service Fundamentals for Affordable Wedding Videographer
Because "point-and-shoot" videographers in Sydney provide only basic documentation of your wedding, they are the least priced alternative (less than $1,000 or they charge an hourly rate instead of package rate). If you've watched any of your friends' wedding videos...well, you get the idea.
While these recordings provide an adequate record of the festivities, several brides have informed us that their "point-and-shoot" videos appear tacky due to the pros' use of gimmicky animated graphics and sound effects—you may want to advise your pro to tone down these kinds of treatments.
Also, instruct your videographer not to approach your guests and urge them to "say a few words" to the camera: this is considered quite out of place. And make sure to specify the music you want to be included in the soundtrack (videographers tell us that a frequent choice is Damien Rice's "The Blower's Daughter," which was featured in the film Closer).
By Ozphotovideo Studio
Engage the services of personable photographers and videographers.
On your wedding day, there is a lot to photograph in a short amount of time. Your photographer and videographer will both capture the same crucial moments: getting ready, first look, ceremony, speeches, reception, and so on. Coordination is essential, so aim to choose a photographer and videographer who have previously collaborated. This way, they'll almost certainly have mechanisms in place to ensure that everyone records those great moments. For a seamless day-of experience, ask your wedding coordinator for referrals or have your photographer recommend a videographer (or the other way around).
Find a filmmaker who is familiar with the type of venue you have in mind.
You've discovered a filmmaker you like, but you've noticed that all of their films take place outside, and you're getting married in a ballroom type venue? Before you hire a filmmaker, ask them if they are comfortable shooting in your wedding venue. Request sample films to see and show them an example of a film you like from your venue (or something similar) to ensure they are comfortable shooting in similar settings.
Find someone that is a good fit for your wedding video style.
After you've narrowed down your selection of filmmakers who work in your area and are within your budget, watch a LOT of sample films. Wedding films differ greatly. Some are largely getting ready shots and planned bride and groom moments, while others are mostly candid coverage of dancing and the reception. Some involve merely music, while others include vows, speeches, and toasts. Some even include interviews with the bride and groom, which were shot on the wedding day or well in advance. The videographer you select should have a number of videos that you enjoy. Send them examples of your favourite images from their portfolio before the wedding. Give concrete instances of what you liked about each.
By Ozphotovideo Studio
Don't be frightened to look outside of your city.
Local wedding vendors, such as florists and caterers, make more sense. However, don't be limited by location when selecting a videographer. While filmmakers may require some equipment, it is usually limited to what they can transport on a plane or in a car. Vanessa, a Love Stories TV team member and bride-to-be, is being married in Baltimore but has found and hired a filmmaker in Colorado! Every filmmaker has a different travel policy, so if you find someone you like who isn't from your area, reach out!
Recognise what is included in your bundle.
As the popularity of wedding films has grown, so have the package options and terminology. Understanding everything included in your plan can help you avoid being disappointed later. When your filmmaker offers you examples of what's included in your package ( trailer, highlight, complete edit, etc.), view each one to ensure it's the type and amount of coverage you desire!
Make sure you get along with the videographer.
When you hire a videographer in Sydney, you'll have to dance with them from the minute you sign the contract until months later during the editing phase. You'll want to make sure you're tangoing to the same beat before signing anything.
It's an experience to be recorded all day when you're not used to it. It entirely depends on how well you get along with the person behind the camera whether it is a good or poor one. More importantly, the level of connection you and your fiancee have with the videographer is directly tied to the quality of your film.
If you're at ease around each other, your videographer will pick up on the subtle details about you that will make your film distinctly yours.
So go get a cup of coffee or a drink with a few different folks. Which one do you think best represents you as a couple? Which of them is asking you the appropriate questions? Which one has a similar sense of humour to you?
Make sure you enjoy the way their prior films have told stories.
"There is yet to be a wedding film you've developed that hasn't made me cry," a bride once told me. When I get feedback like that, it makes me feel great because it shows me I'm doing a good job. I'm narrating a story.
The truth is that most couples have a tale that could send grown men to tears, but it can only happen if their storyteller (the videographer) spends enough time getting to know them before the wedding to uncover that story and present it with purpose.
I would recommend that you compare as many filmmakers as possible and see which videos stick out to you. What makes them stand out? Why did you cry in one film but not in another?
Make certain that they have assistants to help divide the responsibilities on your special day.
I used to shoot weddings by myself, and I would never recommend it to my worst enemy. There is simply too much equipment, too many balls in the air, too little time, and too many locations to be at once for everything to work successfully. Select someone who will send out at least two persons on your wedding day.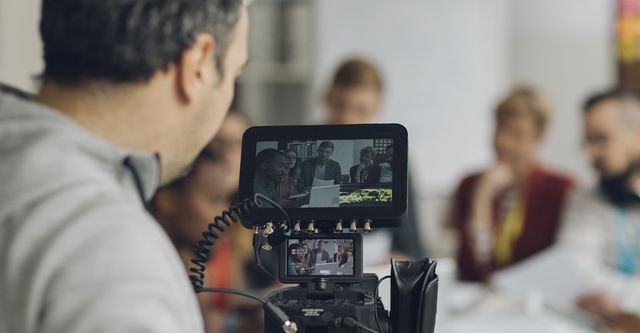 Don't be hesitant to set a budget for a videographer
Many brides still consider video to be an additional item to include in their wedding if their budget allows. With that thinking, you might not want to acquire a video at all because you might find up paying too much for something you don't like. There's no reason to ignore someone because of their price either, but be wary of anyone who tries to rip you off with a heavily overpriced package.
Request Samples
You must request to watch a demo clip of the videographer's past work. There is no reason for them not to provide a demo; if they say they can't due to privacy or other concerns, remove them from your list.
Ideally, you should view a variety of their work, but you should also watch a complete video from beginning to end. You want to know that they can cover the entire event rather than just a few beautiful images here and there. It is usual for a few minor faults to occur during a long video.

Communication Abilities
The videographer should be able to get along with others and communicate effectively. Effective communication is essential for ensuring that everyone knows what to do and what to expect in connection to the video and for making the day run smoothly.
Videographers must collaborate with visitors as well as other experts. If there is a disagreement between them and the celebrant or photographer, the video quality may suffer.
Style
Different videographers have different styles, and you should choose one that you feel at ease with. The following are examples of popular styles:
Reality-TV-style fly-on-the-wall
Documentary (interviews, voice-overs, etc.) Artistic, cinematic styles
Price
Making good wedding movies is not exactly a cheap industry, and pros must charge some money in order to make a reasonable profit. You should be wary of low-cost quotes as well as ultra expensive quotes.
We can't give an exact price range because they vary so much from location to location, but quality videography is typically at least as reasonable as professional photography. When you consider that most videos need several days of expert labour and top of line equipment.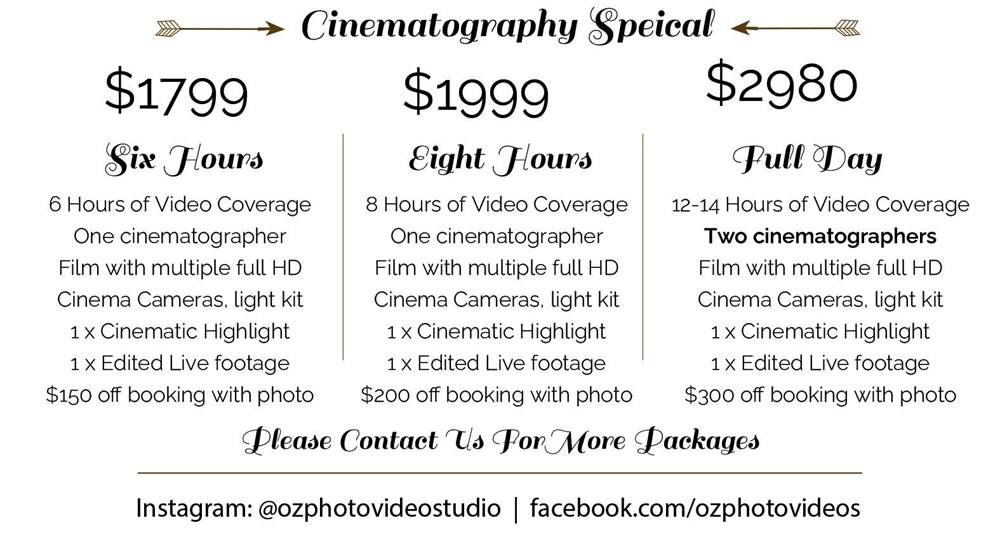 (Ozphotovideo Studio Wedding Videography Price 2023)
Cameras and Accessories
You might want to enquire about the type of video camera and other equipment that will be used. This knowledge may be useful if you are experienced with video equipment, but it is probably not required. An ordinary camera in the hands of a professional is superior to the most costly camera in the hands of an ordinary videographer.
It is worthwhile to enquire as to how many cameras will be employed. A single camera cannot capture everything correctly and safely. Two cameras will allow for far better images and lessen the likelihood of missing something vital. A third camera, typically set to a static wide-angle, adds even more security and creative opportunities.
Final Versions & Editing
The importance of editing cannot be overstated. A high level of editing will have a significant effect. Pose the following questions:
How long will the finished product last?
Can you have multiple versions, such as a complete version and a 5-minute highlights package?
Will music be included? Do I get to choose my own music?
If you are concerned about your money, one alternative is to request that the wedding be covered but not edited. Instead, you get the "raw" film, which isn't particularly useful to see, but you can store it and edit it later when you have the funds. The most important thing is to document the day – editing can be done afterwards if required. Unfortunately, many filmmakers dislike revealing their raw material, but it never hurts to enquire.
Format of Video
Inquire about the format in which the video will be shot and delivered. If at all possible, we recommend that you request wide-screen high-definition. When everyone is used to seeing high-definition videos all the time, standard-definition videos will appear low-quality in comparison.
In addition to the DVDs or videotapes provided for routine viewing, you should request a master-quality version in the original format (i.e. the edit master before it is compressed or encoded). This version can be used for further editing or transferring to new video formats at a later time. Please keep in mind that this is not a common request, and the videographer may be shocked if you ask for it. Make sure to enquire well in advance of the wedding day.
Your videographer should be able to frame an excellent scene and switch from wide-angle shots to close-up macro, rather than just a series of lengthy images sweeping across the entire room.
Look for wedding video vendors who will let you tailor the video package.
Examine the videographer's portfolio and examples of work, paying attention to the picture and audio quality.
Consider the videographer's personality to see if they can capture the event without interrupting the guest.
Inquire about the camera equipment they are using and whether they deliver High Definition HD quality video or even 4K
(our 4K wedding video work 2023)
Determine whether they can stay within your wedding budget without sacrificing quality.
Getting referrals from friends and family is the greatest method to find a reputable videographer who works in the style you desire.
You can get a sense of a videographer's style by visiting his or her website, where you may be able to watch sample reels. If the videographer does not have a website or if it is badly constructed, this is an indication that he or she is not digitally savvy!
When visiting with possible videographers, request an example of a whole, edited film from one wedding rather than a "best of" demo—this is the most effective way to assess the quality of the product you'll receive.
The editing of raw material to create a spectacular sequence is an integral aspect of the video business. In most cases, video editing entails removing unnecessary scenes. Your wedding is reimagined as a narrative story in a new light. Your wedding event celebration will be enhanced by the combination of inventive concepts, high-end equipment, and creativity. You might want to include a voice-over in the post-production phase, along with some stunning music or special effects, to enhance a crucial wedding ceremony in one's life.
When the wedding celebration is over, the wedding flowers will eventually die, your wedding guests will consume the meal menu, and the only thing you will be able to save forever are the images and videos.
Affordable Wedding Videographer Sydney
---
Our Talented Wedding Videographers provide stunning film of your big day at a very reasonable rate that will suit any budget.
Please contact us right away! We would be delighted to hear from you and provide you with the best services available. You will never be sorry for deciding to use our services on the most important day of your life.
Contact US