Get Cheap Wedding packages for Photography At Ozphotovideo Studio
Do you Want to save your precious time and money? We are the one stop solution!
We offer Affordable Wedding Photography and Videography with Amazing Quality & Quantity...
Affordable Wedding Photographers and Cinematographers in Sydney
Welcome to Ozphotovideo studio. Being professionals, we provide the best quality Cheap Wedding Packages in Sydney.
Are you seeking an affordable Wedding Service, where you can have stunning photos & Album at lower prices? At Ozphotovideo studio, our experts do it in a fantastic way with affordable rates that fits your budget.
We believe in providing our valued customers with best quality picture with best price. With us, your wedding will be better, and our services will provide you the satisfaction. We ensure you that your biggest and best day goes off without a hitch. So if you are finding the perfect and cheap wedding photography and videography package in Sydney, then we are the right choice!
Do you Want to save your precious time and money? You've come to the correct place if you're looking for a professional photographer & videographer in Sydney to capture your special day with out breaking your budget, and We are the one stop solution, Check out our latest works and porfolio.
Unlike other wedding Services providers in Sydney, we offer
- A high-quality Wedding Video Production in Sydney.
- Amazing, Unique and Best Wedding Photography in Sydney.
- Flexibility for you to provide services according to your ideas.
- Most Affordable 6hr Wedding Photography package with Premium Photo Book Album starts from $1680.
- No Hidden Cost, all services are easy to book.
- Multiple Editing Styles Available (Upon Request).
- Affordable Services & quality rival with $10K- $15K+ packages.
Our goal is to provide you with best photography and cinematography result with smiles and memories!
Our Approach
Ozphotovideo Studio is based in Milperra , NSW, and specialises in creating stunning photographs that capture every aspect of your special day. Every wedding we photograph is special, candid, one-of-a-kind, and exceptional in its own way. We provide full day or half day packages that include images , videos and premium albums to help you create amazing memories on your wedding day. In contrast to other Affordable Sydney wedding photographers, our package includes digital copies of all high-resolution photographs and videos produced on your wedding day without any logo and water mark. Send copies to your friends and family at no extra cost online.
FREQUENTLY ASKED QUESTIONS
How do you manage to keep your wedding photography & Videography costs so low?
We keep our pricing so low compared to other photographers because we keep our costs low – we don't have showy storefronts in Sydney CBD and Eastern Suburbs, and we don't hire salespeople to try to up-sell and seal the deal. It's simple: we provide high-quality pictures at an affordable and transparent price.
Rest assured that, while our pricing are competitive, we do not scrimp on photography skill and equipment, with each photographer generally carrying two cameras to ensure all moments are captured. Check out our videography and photography quality before you make any bookings.
How do I book the wedding package?
We'd love to photograph your wedding! Simply fill out the contact form below, and we'll be in touch as soon as possible to confirm the information and organise the invoice, deposit and contact.
Alternatively, you can reach us via Phone or Face to Face consultation at our office in Milperra Business Park.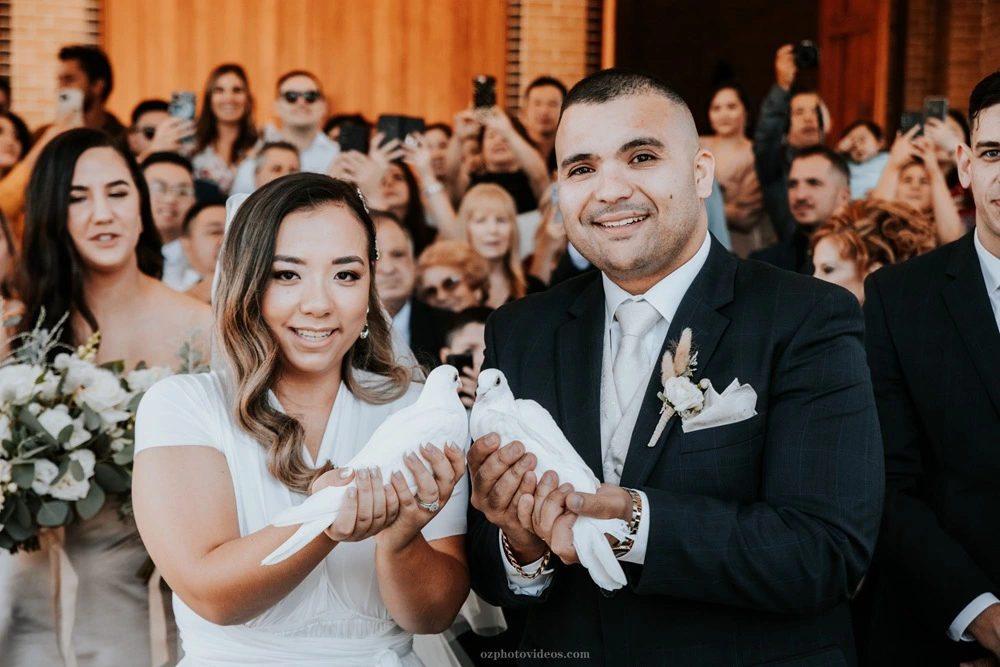 How many photos are you going to take?
We take a lot of pictures to make sure we catch all of the great and significant moments from your wedding. The candid and natural shots that attract our eye are mixed in with this.
We supply roughly 100-150 photographs per hour of photography, thus a 10-hour package would provide you with approximately 1000-1500 excellent quality photos in Ultra-high resolution.
Do you have any suggestions on where we should shoot our wedding photos?
Without a doubt! Many Sydney wedding venues already offer beautiful grounds for portrait shots, but We have a few secret spots up my sleeve that I'm always pleased to share with brides and grooms.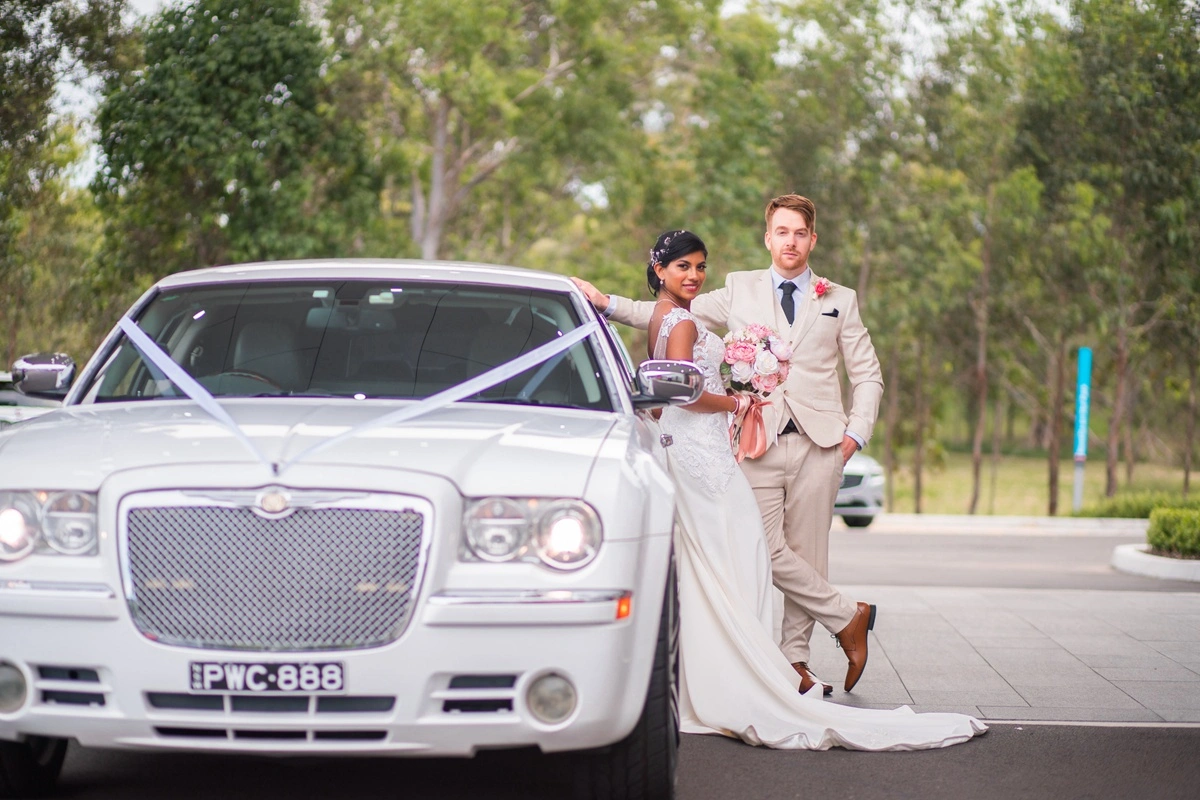 How much do you charge for wedding photography?
Our Package Price are generally affordable, depending on the number of hours of coverage desired, typically couples spend between $1,500 and $2,900 on their photography package and $1,500 - $2,900 on their videography package. Our regular wedding photography packages client samples are available for viewing in our gallery.
(Our Current Package as of 2021)
---
About Affordable Sydney Wedding Photography & Cinema
Ozphotovideo's Affordable Sydney Wedding Photography & Videography is a prominent photo and videography wedding service situated in Sydney, Australia. Our team of photographers and videographers has enjoyed a rich reputation in the past while assuring high quality services you can enjoy best of both world.
You may rest convinced that you have taken the perfect decision, without worries or second thoughts, by hiring Sydney Wedding Photography & Cinema. With their commitment and kindness, our team of specialists will exceed your highest expectations and provide you with pictures and movies that will leave you stunned.
Our Photographers are all Sydney locals
You have to make sure that you select for a professional photographer and videographer situated in Sydney when planning to celebrate your wedding in Sydney.
It can provide you with several outstanding advantages.By hiring our service, it will not only give you an opportunity to minimise money spend and manage time, but also help you select ideal spots for your pictures and videos that suits your style and taste with our knowlege of best wedding locations in Sydney.
We provide our customers high flexibility and strive to meet your requirements.


We have a flexible crew
We can tailor the wedding photography and videography services we provide to your specific needs. Whatever the topic of your wedding or event, we are prepared to cover it. We have covered a wide range of events, including our traditional Aussie weddings, Indian weddings, Asian Weddings, Muslim weddings, and many more.
Furthermore, in order to meet your preferences and ensure that our services are adaptable for you, we may provide you with customised Packages based on your budget, needs, and event. We will also allocate the appropriate personnel to assist you and ensure that your event is covered to the highest degree with both quality and flexibility.
We deploy the latest camera technology
The organization has invested in cutting-edge technology, such as the most recent cameras, lenses, and equipment. We employ high-end camera equipment such as Sony G master lenses, Canon L serie Lense Sony Alpha full frame cameras, and the latest Canon EOS R5 professional cameras.
Furthermore, we invested in a number of lenses that will allow us to take portrait, landscape, and a variety of other types of images and movies. In addition, we can take high-quality videos that will provide you with a cinematic experience at all times.
Drones are another fantastic aspect of the investments that we have made at Sydney Wedding Photography & Cinema. Using drones to collect aerial footage and enhance the appearance of your images and videos. Furthermore, you will enjoy seeing the birds' eye perspective that the drones can capture.
A Long History of Taking Wedding Photography
The organisation has a total of 25 years of professional expertise. Experience is essential for providing professional photography and videography services. Furthermore, our team employs their knowledge to provide you with flawless results at all times. We have worked on numerous weddings and events in the past and have gained valuable professional expertise in this industry.
Furthermore, with a staff of highly skilled professionals, Sydney Wedding Photography & Cinema provides services that guarantee client happiness. It is critical to understand what goes on behind the scenes and what steps to take to guarantee your wedding day is a fairy tale.
The service we deliver is a passion for us
You will appreciate receiving wedding photography and videography services from a staff that is enthusiastic about the services they provide. That is where you may contact Sydney Wedding Photography & Cinema. Our crew consists of not only experts, but also artists that appreciate and love generating images and videos from an artistic perspective.
Our passion and attention will ensure that your photographs are special and one-of-a-kind to you. We give close attention to details for you so you can enjoy your event with laughter and smiles. This will assist you in avoiding tension when acquiring our services. Our desire is what propels us to success.
Our services are offered through out Greater Sydney and Beyond
Despite the fact that our organization is situated in Sydney, we do not limit our services to the Sydney area. Instead, we serve customers from all over Australia and in New Zealand, Fiji. You simply need to inform us of your requirements, and we will ensure that they are met.
These are some of the top reasons to fall in love with the services provided by our team at Sydney Wedding Photography & Cinema. You can learn more about what we have to offer by visiting our contact page.
Once more, Apprieciate your readings!
Thank you for your interest! Please fill up this form to get in touch with us.
Please let us know your venue details so we can accommodate your needs best.
Also check out our PACKAGE PRICE